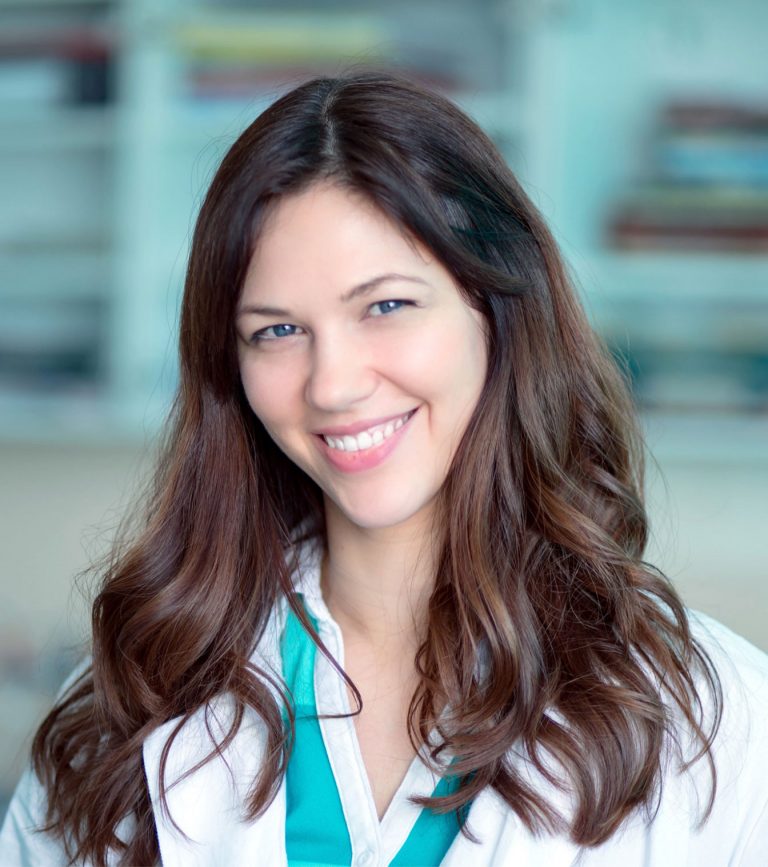 Miljana Tanić
PhD Senior Research Associate Principal Investigator
Miljana Tanić
Miljana Tanić, Senior Research Associate, is a molecular biologist with a PhD degree in Biomedicine from the Universidad Autonoma de Madrid. Her PhD work in the Human Cancer Genetics group at the Spanish National Cancer Research Centre (CNIO), Madrid, and during secondment at the Silva group at the Columbia University Herbert Irving Cancer Centre, NY, USA, was focused on the role of miRNAs in hereditary breast cancer in relation to genetic background, development of diagnostic biomarker models and functional interactions between BRCA1 gene and miRNAs.
In 2012 she returned to her home country, to the Institute for Oncology and Radiology of Serbia, where she studied molecular mechanisms of resistance to preoperative radiotherapy in locally advanced breast cancer to identify biomarkers of resistance.
In 2015, she joined Prof. Stephan Beck's group, at the UCL Cancer Institute, London, where she worked on developing new methods for DNA methylation analysis in circulating cfDNA in CRC, benchmarking methods for targeted bisulfite sequencing and studying DNA methylation heterogeneity in NSCLC. Her primary research interests lie in the field of cancer genetics and epigenetics, combining her in-depth knowledge of cancer biology and epigenetics with technical expertise in high-throughput methods such as genotyping, microarrays and NGS with strong computational and quantitative skills, as well as functional studies and molecular biology and biochemistry methods.
Her research aims for a better understanding of cancer etiology and improved patient management through the development of diagnostic, prognostic, and predictive biomarkers. Her track record includes 15 publications in top-tiered academic journals, numerous scientific communications and personal awards and fellowships, including "L'Oreal/UNESCO For Women in Science National Fellowship" and the Marie Sklodowska-Curie Actions COFUND Fellowship. In 2019, she returned to IORS where she leads the TRACEPIGEN project funded by the Science Fund of Serbia to develop and apply new epigenetic biomarkers for tracking systemic therapy resistance in NSCLC and CRC.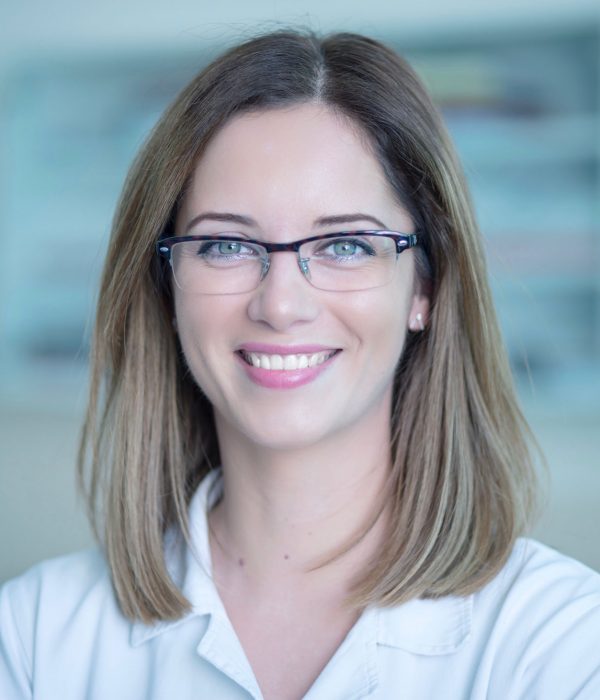 Ana Krivokuća
PhD Senior Research Associate
Ana Krivokuća
Ana Krivokuća, PhD, Senior Research Associate, is a molecular biologist with PhD in Genetics from Belgrade University and MSc in Bioethics from Clarkson University, US with more than 10 years of experience in cancer research and more than 5 years of experience in clinical genetics and bioethics.
As a Research Associate at IORS she has been investigating genetic basis of hereditary breast and ovarian cancers in Serbia and has participated in forming genetic counseling center at the Institute where she introduced next generation sequencing technology into routine clinical use for hereditary cancer patients in Serbia. She has initiated and introduced new laboratory protocols and organized the pipeline for sample collection, data analysis and results interpretation based on next generation sequencing technology. Besides wide array of laboratory techniques including high-throughput genomic technologies, she is experienced in interpretation of genomic data, variant annotation and genetic counseling. She is skilled to conduct informed consent process and to recruit the patients/participants for research projects. She has demonstrated an ability to manage and conduct both research and clinical laboratory projects and to communicate with a variety of scientific colleagues through her previous work experience. She received numerous awards and fellowships from national and international organizations and published more than 30 scientific papers. Her in depth knowledge of NGS variant calling and interpretation will be of extraordinary value for the successful identification of clinically actionable variants and incidental findings in the clinical validation phase of the project.
Milena Čavić
Milena Čavić holds a Ph.D. in Biochemistry from the University of Belgrade, Serbia and is currently employed at the Institute for Oncology and Radiology of Serbia as a Senior Research Associate.
Two years of her Ph.D. were spent at the University of Barcelona, Spain, where she was working as a Teaching and Research Assistant. She is skilled in both protein biochemistry and molecular genetics. Her current research focus involves molecular pharmacogenomics, investigating resistance mechanisms to chemo-, radio- and targeted therapies in the oncological setting, as well as investigating the immunological aspects of epithelial barrier disorders. Milena Čavić currently serves as Co-chair of the Diagnostics Working group of the Screening & Early Detection Committee of the International Association for the Study of Lung Cancer (IASLC), a Board Member of the Serbian Association for Cancer Research (SDIR), an Ambassador of the European Association for Cancer Research (EACR), and a Member of the Advanced Courses Committee in the Biochemical Society of Serbia (BDS). She is currently a Management Committee Member in one COST Action related to colorectal cancer (TRANSCOLONCAN CA17118) and a partner-participant in one MSCA-RISE project focused on lung cancer (LungCARD 734790).
Dr Milena Cavic is a coauthor of over 30 scientific publications and has served as a reviewer for many journals and as an expert evaluator of proposals in the H2020 call H2020-MSCA-IF-2019 (Life sciences panel). She has been awarded several international and domestic fellowships and prizes, and is an active Editorial Board Member of one domestic journal. She is involved in undergraduate and postgraduate students' education as a lecturer and mentor of B.Sc., M.Sc. and Ph.D. theses at the University of Belgrade and University of Barcelona.  She has over 10 years of experience performing IVD assays for companion diagnostics in cancer pharmacogenetics and will contribute to the selection of biomarkers for somatic mutation testing and successful design of primers, as well as in validation of their clinical utility.
Ivana Boljević
Ivana Boljevic, PhD candidate holds a MSc degree in Molecular Biology and is currently completing her PhD studies in Molecular Oncology, at the Faculty of Biology, University of Belgrade.
The experimental part of her PhD thesis has been conducted at the Laboratory for Molecular Genetics, at the IORS. Her research contribution has been to examine changes in expression profiles of genes involved in epithelial-mesenchymal transition in clinical specimens of epithelial ovarian cancer, in addition to the molecular genetics research of other solid tumors, such as lung, breast and prostate cancer. As a Research Assistant, she gained significant experience in various molecular biology and biochemistry techniques. Also, she has been conducting genetic testing to select cancer patients for targeted therapy as part of the centralized pharmacogenomics service at the Institute. Furthermore, along with senior colleagues, she was involved in the implementation of the next generation sequencing (NGS) technology as part of the routine clinical practice for hereditary breast and ovarian cancer patients in Serbia. She attended numerous national and international conferences, both as an oral and poster presenter, and has published 9 research papers.
Her contribution will be instrumental for method optimization, library preparation, sequencing and data analysis of cfDNA samples.
Jelena Spasić
Jelena Spasic, MD is a Medical Oncologist working at IORS since 2004. with main fields of expertise in lung cancer and gastrointestinal cancers.
She is an Internal Medicine specialist with a subspecialisation in Oncology and is currently working on her PhD thesis in the field of genetic polymorphisms and survival of patients with lung cancer. Her everyday clinical practice involves administration of chemotherapy, target therapy and immunotherapy, but also supportive and palliative care, end of life care and dealing with treatment toxicities. Her particular skillset includes communication with cancer patient and caregivers, discussing diagnosis and prognosis, treatment plan and delivering bad news. She has participated in numerous phase 2, 3 and 4 clinical trials as Principal Investigator, Subinvestigator and Study Coordinator and is certified to consent patients for study participation. She had trained at important international oncology centers, including The National Cancer Center in Tokyo, Japan, The Royal Marsden NHS Trust in London, UK and the Juravinski Cancer Center in Hamilton, Canada.
She has been awarded many national and international grants and fellowships, and has participated in numerous courses, trainings and conferences both locally and internationally as a presenter and lecturer. She is also skilled at organizing national and international courses and conferences. Her experience and expertise will be critical for recruitment and follow up of CRC and NSCLC patients and clinical evaluation of selected biomarkers.
Marijana Topalović
Marijana Topalovic is an experienced senior laboratory technician and professional medical laboratory technologist with more than 17 years of laboratory experience in the fields of experimental pharmacology and molecular genetics.
Her skills' set includes mammalian cell culture, human biosample processing - body fluids (whole blood, plasma, serum, saliva) and tissues (frozen and FFPE), extraction of DNA, RNA, and/or protein, somatic mutation testing through qPCR and library preparation protocols for NGS. She has been involved in clinical diagnostics, research projects and clinical trials at the Institute for Oncology and Radiology of Serbia where she has been employed since 2002. She has been awarded the silver sign award from The Association of Health Workers of Belgrade in 2017. She has been an active member of the Association of laboratory technicians of Serbia and Association of Health Workers of Serbia. Her contribution will be essential to ensure effective collection and processing of patients' blood samples.